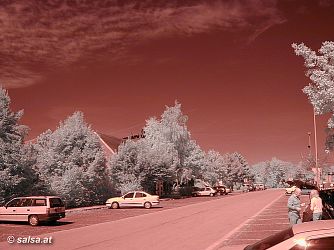 Different to Thermography, where pictures are taken with an expensive Thermal imaging / Infrared Camera (ca. 20 000 - 40 000 USD) which is able to make visible infrared radiation in the "far infrared" of about 5-15 µm, the "ordinary" infrared photography is an inexpensive method which takes place in the infrared wavelenghth range very close to the visible light at abt. 0,8-1 µm (800-1000 nm).
So you can use a simple analoge or digital camrera using an infrared filter.

The pictures shown were taken with a Nikon 950 digital camera with a Cokin infrared filter Nr.007. A slight red colour is still visible but they are mainly black and white.

Plants and green leaves of any kind are the perfect subject to take infrared pictures: Chlorophyll is absorbing visible and ultra violet light and re-emits it again (fluorescence) in the infrared range. That means: plants are shining bright in the invisible infrared.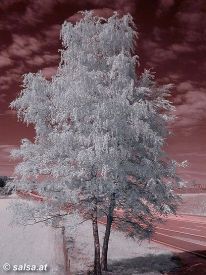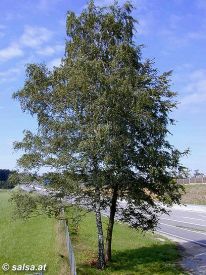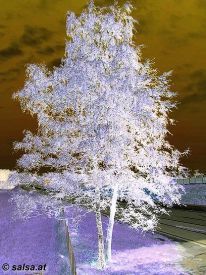 The same tree three times: infrared picture (left) und als "normal" photography (center).
On the right just for comparison: the negative image. It looks a bit alike the infrared one,
but actually it is a totally different kind of picture.